Pilates and Exercise Classes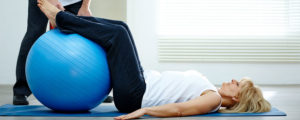 We are delighted to announce that we have expanded our services into number 13 Church Street (next door to our current premises) in order to offer Pilates and other classes for small groups.
Pilates classes are run on Wednesdays  at 2pm, 3pm, 6pm and 7pm (and will continue in 6 week blocks thereafter), led by Amy Kellagher one of our very experienced physiotherapists who has additional Pilates qualifications. We are also able to provide Pilates classes on other days if preferred and these will be taken by Laura Sheldrick, another experienced and suitably qualified physiotherapist. These would be ideal for anyone with back pain and core weakness.
Pilates will help to strengthen core muscles which support the spine and helps to reduce incidences of back pain.
We aim to keep numbers to 4 so that Amy and Laura can monitor and correct where necessary.
Additionally, we run Agile and Active classes for seniors or people with mobility or balance concerns. There are 2 classes run by louise Wallace, one of our experienced physiotherapists. One is chair based for the less mobile and there is a more advanced class designed to maintain and improve mobility, strength, balance, posture and co-ordination. These are also very helpful in helping to reduce the possibility of falls and are finished with a short period of relaxation, and also provide great social interaction.
Currently we are planning the following classes:
Lower limb – hip/knee/ankle/foot
Upper limb – shoulder/elbow/wrist/hand
Cardiac rehab
Cancer group – pacing/optimising energy and endurance levels
Chronic back pain 
Neuro rehab – stroke/MS/Parkinson's etc.
Pre-op advice and post-op hip and knee exercises and rehab
Chronic pain
We are happy to consider any other classes and welcome enquiries and suggestions.
Places on all the classes are very limited as we are keen to personalise them as much as possible. All classes will be taken by one of our highly qualified and experienced physiotherapists to ensure all are of the highest standard and evidence-based.
Please call 01620 825380 for further details and to book your place.