Pilates and Exercise Classes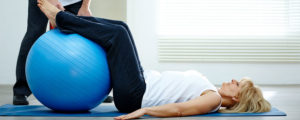 We are delighted to announce that we have expanded our services into number 13 Church Street (next door to our current premises) in order to offer Pilates and other classes for small groups.
Pilates classes are starting on Wednesday 22nd August at 2pm (and will continue in 6 week blocks thereafter), led by Amy Kellagher one of our very experienced physiotherapists who has additional Pilates qualifications. We are also able to provide Pilates classes on other days if preferred and these will be taken by Roz Ward, another experienced and suitably qualified physiotherapist. These would be ideal for anyone with back pain and core weakness.
Pilates will help to strengthen core muscles which support the spine and helps to reduce incidences of back pain.
We aim to keep numbers to 4 so that Amy and Roz can monitor and correct where necessary.
Additionally, we are planning several other small group classes to help make private physio more affordable to more people and so that people can support and encourage each other.
These would be ideal for anyone who has slight 'niggles' but doesn't feel the need for a full physiotherapy assessment and treatment appointment and will avoid long waiting lists on the NHS, or for people who have finished a course of treatment and would like to maintain their levels of fitness.
Currently we are planning the following classes:
Falls prevention
Balance, strengthening and proprioception
Lower limb – hip/knee/ankle/foot
Upper limb – shoulder/elbow/wrist/hand
Cardiac rehab
Cancer group – pacing/optimising energy and endurance levels
Chronic back pain 
Neuro rehab – stroke/MS/Parkinson's etc.
Pre-op advice and post-op hip and knee exercises and rehab
Chronic pain
We are happy to consider any other classes and welcome enquiries and suggestions.
Places on all the classes are very limited as we are keen to personalise them as much as possible. All classes will be taken by one of our highly qualified and experienced physiotherapists to ensure all are of the highest standard and evidence-based.