About Us
Why choose County Physio?
About County Physio
We have a highly motivated team of experienced and effective Chartered Physiotherapists who are Health and Care Professions Council (HCPC) registered, an experienced independent Occupational Therapist, also registered with the HCPC, and a fully qualified Remedial Massage and holistic remedial massage therapist, a Remedial Massage and Sports Therapist and a Reflexologist who are all available to provide positive solutions to your problems.
We also offer highly effective and popular online consultations which have received very positive feedback. The benefit of online consultations is that everyone can now take advantage of our expertise, regardless of location.
Please refer to 'Our Therapy Team' for further details of the individual qualifications, skills and experience each therapist has.
The physiotherapists work actively to prevent future problems and resolve current difficulties quickly – usually within 4 to 6 sessions, often less, by providing immediate access to assessment, diagnosis, prognosis and treatment at our well-equipped premises.
We provide flexible hours to suit clients' busy schedules and also provide customised exercise handouts, video-clips and information to support clients' rehabilitation programmes.
Our aim is to keep or return you to work and leisure activities following injury with guidance, advice and appropriate treatment to minimise and prevent recurrence of your problem.
Please contact us on 01620 825380 for details and further information.
"Helpful. Explained everything well. Quick recovery. " K.G. 
"It's nice to be treated by professionals who know what they are doing. Very welcoming." J. F.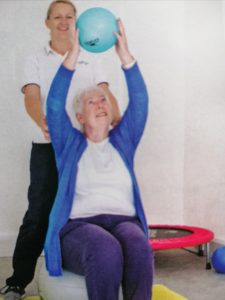 What does County Physio provide?
Immediate access to timely treatment – no waiting list
Biomechanical assessment, gait and posture analysis and correction
Balance assessment and vestibular rehabilitation
Sports injury rehab and strengthening
1:1 Pilates with an APPI qualified physiotherapist
Headache clinic
Post-operative rehab and strengthening
Neuro rehab
Occupational therapy – assessment, advice and equipment provision
Remedial massage and sports therapy for soft tissue issues and sporting injuries
Skype consultations if required for clients with mobility problems
Acupuncture for musculo-skeletal pain and inflammation
Falls prevention programme
Remedial massage and sports therapy
Reflexology
Online consultations for those unable to attend the clinic
(Please refer to 'Services' for full details of all these areas of our work.)