WELCOME TO COUNTY PHYSIO

14 Church Street, Haddington, East Lothian EH41 3EX
---
County Physio provides an immediate, expert and professional service delivered by highly qualified and experienced chartered physiotherapists based in East Lothian but within easy access to and from Edinburgh, the Lothians and Borders. We work with integrity and are passionate in supporting all of our clients to achieve solutions to their problems.
**New Womens' Health Physiotherapy Services**
We are delighted to now provide Womens' Health Services delivered by an extremely experienced womens' health physiotherapist. She offers assessment and treatment during pregnancy for any pregnancy related issues such as back or pelvic girdle pain, assessment and advice following delivery.  Additionally helping with incontinence, providing strengthening and pelvic floor exercises. There is also help for anyone experiencing problems during the menopause and any hormonal changes. Please call to book an appointment on  01620 825380
CLASSES
We provide 'Active and Agile' classes which are intended for older people having difficulty with mobility. They help to maintain and improve fitness levels. We work on mobility, flexibility, strength, balance and co-ordination in a safe environment and with the added bonus of a free cuppa and biscuit at the end! Great fun and very sociable. To book your space, please call 01620 825380
**NEW LONG-TERM/RECURRENT BACK PAIN MASTERCLASS**
This is ideal for anyone experiencing chronic or recurrent episodes of neck or back pain. It is presented by our specialist back pain physiotherapist and consist of a small group session to help to inform, reassure, educate and provide a safe space to learn about various techniques to manage your pain and improve activity levels and quality of life.
Please call 01620 825380 for more details.
Physiotherapy can help accelerate the body's natural healing processes for restoration of normal function to help keep you fit for every aspect of life. We aim to keep you at work or return you to work and leisure activities following injury or disease, with guidance and advice to minimise and prevent recurrence of your problem. We aim to improve your symptoms and help prevent recurrence within 4 – 6 sessions on average.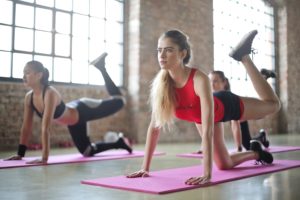 We are delighted to offer a truly holistic approach to your health and well-being by offering not only Physiotherapy, but also Womens' Health Physiotherapy, Remedial Massage and Sports Therapy and Sports Massage Therapy.
Call for further details and to book an appointment on 01620 825380.
Please visit our Services  and  our Physiotherapists and Complementary Therapists pages to see some of the available treatments we offer to help solve your problems.
"Excellent all round and intervention extremely effective. Will continue to recommend your clinic."
"Very friendly but completely professional. Would not hesitate to use their services again and can highly recommend County Physio." Y.F.
Please refer to our cancellation policy notice which can be found on the following pages of the website: Appointments, Book and Contact Us.